MULTIQUAD MODULAR TRADE SHOW DISPLAYS
trade show displays ¦ modular exhibits ¦ custom graphics ¦ display design
---
MultiQuad is a portable display composed of interchangeable Quads, giving you the freedom to change messages and images quickly to respond to market demand. Each quad easily attaches to the frame with magnets so a change can even be made during a show since no tools are required.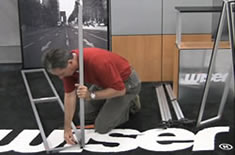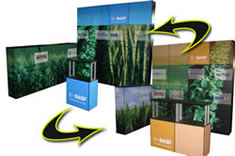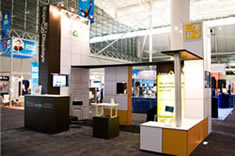 Easy to assemble.
MultiQuad utilizes a foolproof labeling system with all parts color coded and numbered. Simply connect where two numbers match like 1 to 1 and 3 to 3. All done with no tools.
Quickly and easily change your look.
Coming up with a unique design for your MultiQuad is easy with a our large variety of panel options. Each panel can be a graphic, fabric, wood grain, shelf or LCD monitor.
Works for ALL Shows
From 10x10 to 100x100 or larger space; from inline to peninsula to island configurations, MultiQuad works beautifully. The same components are always used. Since MultiQuad can be finished on all sides, there is never a problem converting an inline to an island.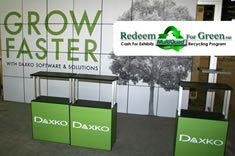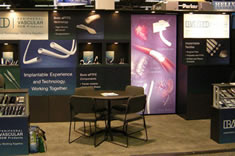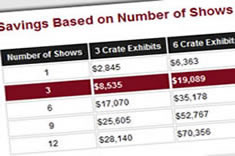 Earth-friendly and cost conscious
MultiQuad is a "green" exhibit that now offers an exclusive buy-back program for when you no longer need your exhibit. Earn up to 20% of the MSRP with Redeem For Green.
Illuminate with Backlit Quads
You can easily transform Quads and multiple Quad combinations into striking backlit graphics! From back-lighting a single 23" x 23" Quad to creating a big, seamless backlit 4' x 4' or 4' x 8' graphic, MultiQuad makes it easy.
Low Drayage Costs
A 4' x 8' MultiQuad frame weighs only 38 pounds. That makes the average 10' configuration about the same weight as a 10' pop-up display! MultiQuad saves BIG on weight-based show drayage costs.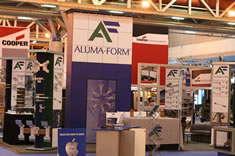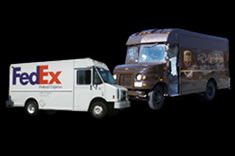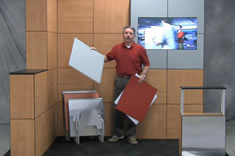 BIG Towers
Eliminate the expense of hanging signs and get your name up to 16' high with a MultiQuad tower. Choose from one of our standard kits or have our design team create a unique tower to give you a big look at your next show.
Portable If You Want It To Be
All MultiQuad components can ship via FedEx or UPS. All of them. A 4' x 8' MultiQuad frame with Quads is 32 cubic feet of exhibit, but it occupies only 3 cubic feet when packed for shipping. That's a 93% reduction! The average 20x20 MultiQuad design fits into only one crate. MultiQuad saves BIG on size-based shipping costs.
Any Quad™ Look You Want
We offer a virtually unlimited number of Quads to give you any look that you want. These include PMS matched colors, wood grains, brick patterns, standard and back-lit graphics and any design you can dream up.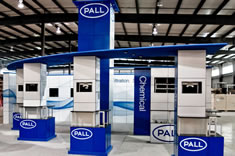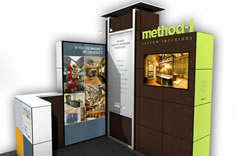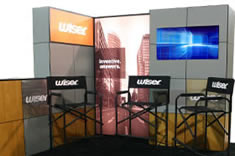 Designs That You Want
No need to look like anyone else on the trade show floor; stand out with MultiQuad. With MultiQuad, your exhibit can be as fresh as your ideas. Our professional in-house Design Department will create the perfect MultiQuad solution for any show.
Beautiful Graphics
Our in-house graphic design and production division creates premium quality, high impact graphics that ship with your MultiQuad.
Great Collection of Accessories
You can customize your MultiQuad with accessories including LCD monitors, keyboard shelves, spotlights and back-lights, inset product showcases and more.