PORTABLE BANNER STANDS
portable displays ¦ banner stands ¦ custom graphics ¦ trade show accessories
---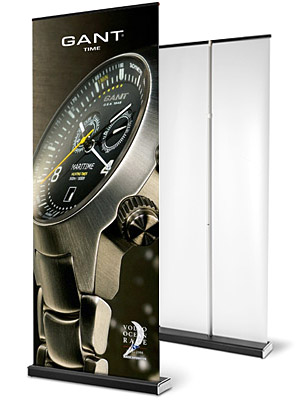 Available Silver or Black base with Chrome ends
(optional 50w banner light)
Expand M2 Premium Retractable Banner Stand
Change banners within seconds – quick and easy
Inspired by solutions found on racing yachts rather than roller blinds, the stand has no springs, but is built around an innovative way to work with tension, the patented Modular Tension System - MTS® - that makes graphics media handling a breeze. All these features fit into a sleek, super light media roll that is easily mounted without using any tools.
With the M2 you can carry multiple graphics with you and change them out on the fly: it takes less than 30 seconds to set up; the weight is around 6 kg (12 lbs), including case and graphic; and the graphic cartridge can be easily replaced when new artwork is needed. This is the hottest item in the backdrop/display manufacturing industry today for cost, convenience, durability and professional eye-catching appeal.
The M2 comes with our Multi Strap Soft Bag™. The bag makes it easy for you to transport your stand and the padding keeps it safe.
LIFETIME HARDWARE WARRANTY
M2 33" Banner Stand w/ZeroCurl Banner -- $520

M2 33" Banner Stand (hardware only) -- $365

M2 39" Banner Stand w/ZeroCurl Banner -- $610

M2 39" Banner Stand (hardware only): $425

Graphic Size: 33.4" or 39.4" wide and 63" to 86.5" high (telescoping pole).
*Graphics printed from your supplied digital files
Price includes printed pre-production proofs (all shipping charges additional).
Standard Production Time: 2 business days from receipt of artwork and final approval. Call for details.
Graphic Specifications and Guidelines
Optional Accessories:
50w Banner Light w/Case -- $185